Here is a short listing of other websites which give valuable Sliders information. Some are official, some are made by fans...but all include items worth the attention of the Sliders community.





Do you want to see all the Sliders sites out there without digging through a search engine for days? JessieMallory has fashioned the ultimate guide to Sliders on-line. And to add the icing on the cake...she did it with style. This site should be bookmarked by every Sliders fan as it is the link to the on-line world of Sliders.




Operated by the ever versatile Vortex62, this site contains a bevy of unique items. Be sure to check out the extensive collection of screen captures and video clips from Sliders episodes along with scans of the complete Acclaim Sliders comics and many Sliders related magazine articles (can't find them? You can read them here!). Tex also has the second most active Sliders bulletin board system on the internet (the most active being the official BBoard at the Dominion). And all these bits are just scratching the surface. This site is a must see for any fan of Sliders!




Yes...there is a revival effort still going. Be sure to check out the SSN Project to see what you can do to help bring Sliders back to the small screen or even to the silver screen. This site also houses the famous RK Weiss transcript in which he discussed his plans for a Sliders feature film (which are still in motion). So visit today if you haven't already...and join the Sliders fan underground! We will never surrender!




Are you looking for articles? JWSlider3 has created a great looking site compiling a large store of article transcriptions...many of which can not be found anywhere else on the net. Updates have slacked off, but be sure to check out the updates section for a great picture of the season four cast - and also, finally proof that Cleavant did grow his mustache back during the summer of 98 and had to shave it off again for season five!

Tim's Multimedia Dimension

Looking for dynamic images and downloads? You found the gateway! The Multimedia Dimension features current news, episode guide with larger high quality screen captures, character profiles and the only online source of the original Fox advertisements for episodes.




If you're looking for detailed episode summaries from seasons one through three, this is the spot. Add that in with a ton of other information, pics, and links...and you can understand why this is one of the most visited Sliders sites on the net.




Owned and operated by QBall79, this site's intended purpose is to delve into the issues on Sliders that quite possibly have more to them than one finds at first glance. Also contained on site is the archived season four downloads no longer at the Sci-Fi website (Vid clips of interviews with production as well as missing fourth season teasers). Also be sure to check out the excellent Sliders tribute page.




Constructed by Slider_Sarah, this site is the home to scheduling information for Sky in the Britanniac regions of the world. Also, this site contians very current news items as well as some excellent episodes reviews (in many cases in advance of U.S. airings). Also be sure to check out the rest of the site for some great images, sounds and links.




This website by Greg Dubos is the source for French Sliders information. In addition, this site houses unique sounds, pictures, articles and the only pages exclusively dedicated to John Rhys-Davies and Cleavant Derricks. Greg also houses and maintains the world wide Sliders ICQ list...join up if you haven't already!

The Sci-Fi Wire

The Sci-Fi Channel's very own news service. Sliders info occasionally pops up in the headlines, and the list of Top 10 Sci-Fi Channel shows and their ratings is given every Monday at the site. Sliders has been in the list every time so far which also makes this the spot for elusive Sliders ratings information.

Uchronia: The Alternate History List

This is an annotated bibliography website of novels, stories, essays, links and other material involving the "what ifs" of history. So, if you're looking for a way to find all the what if's of past, present and future...this is the place.




This site is a very impressive unofficial survey of fans opinions on episodes of various Sci-Fi programs. The site (which also catalogs news items from various sources) has a free registration, and it is very interesting to look at Sliders statistics for episodes. So far, particpating fans have placed four of the new fourth season episodes in the Top 10 for the series. I encourage you to register and vote today...let your voice be known!

Cinescape On-Line

One of the best places to find gossip on the Sci-Fi industry, and a place to find some good Sliders info from time to time. Currently, be sure to check out the report on season five which gives an brief inside look at the episode "A Current Affair."

alt.tv.sliders

No link can be provided because this is a newsgroup. Be sure to "yank" it in to your newsgroup reader and subscribe to this important source of Sliders info on the internet.

Sliders Mailing List

Here is another source of great information being shared among fans. This is a mailing list, which means you will receive the various postings through your own e-mail account. To subscribe to the full mailing list, just follow the above link to find the instructions.

Ed Hall's Earth Prime

One of the original Sliders sites and original home to the "Summer of Love" lost scene (which explained the 29.7 year rule). Be sure to check out the production section to see the sequence Sliders episodes were produced to air in before Fox's meddling. This especially helps in first season...

Slider 17's The Vortex

Looking for more about the timer's operation? Here you can find the above mentioned "Summer of Love" lost scene along with many theories on the timer's operation. While at The Vortex, also be sure to check out the large store of sound clips and the myriad of other goodies as well.

Timer Central

You still want more about the timers? Okay, how about actually getting to use one? If you have Shockwave, try out the excellent virtual timers that have been set up at this site. These are so lifelike that you may even lose your coordinates...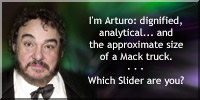 Sliders is a copyright of St. Clare Entertainment and Universal Studios and was produced in association with Sci-Fi Channel (at the time it stopped production).